Banitsa Here, Tea There
Finding a tree branch in your pastry and liking it
If you're enjoying Smart Mouth, please consider signing up for a paid subscription. The money goes toward paying our contributors. Substack sets the minimum at $5/month, so you can't give less than that,* but please feel absolutely free to give more.
*If you would like to give less than $5, you can do that via Patreon, and it is very helpful and appreciated!
Thank you for your support!
Are we connected elsewhere? Say hi on: Instagram | Twitter | Facebook
Please forward Smart Mouth to someone who likes reading about foodways and culture!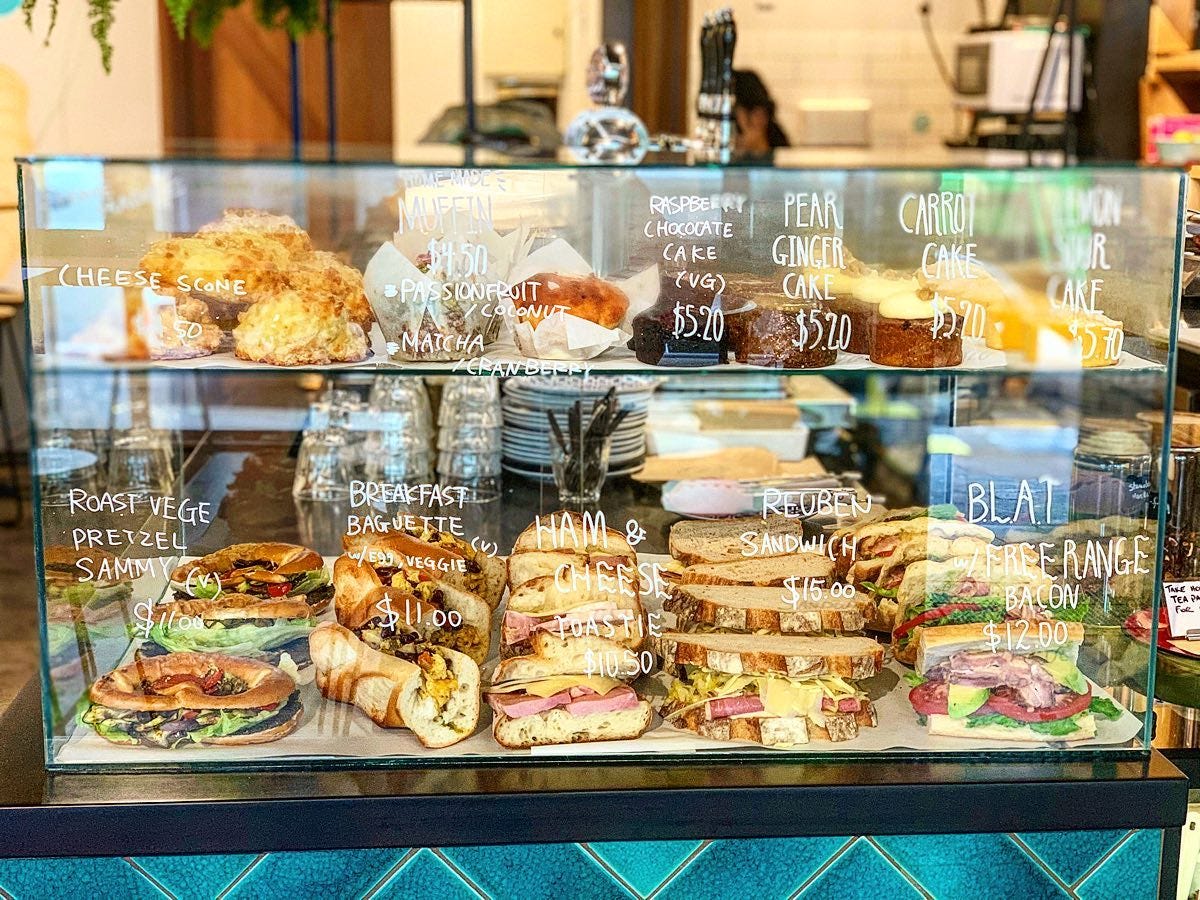 Scrambled Tea and Toast
Qilin Teahouse, located in the Te Aro area in Wellington, New Zealand, is a two-year-old cafe with consistently delicious food, coffees and teas. It's also a welcoming and creative space that's already thoroughly part of the community.
The most interesting item on a menu that features typical café fare of gourmet sandwiches, as well as more unexpected items like a miso pumpkin dish, is the scrambled tofu.
It might not seem like scrambled tofu is very exciting, but this dish on sourdough, with cherry tomatoes, spinach, red pepper, and pickled chilis, comes drizzled with Earl Grey tea. Earl Grey! And then, the menu suggests pairing the breakfast with a gunpowder brew – and with good reason. The two teas complement each other perfectly, with their just-bold-enough flavors.
Qilin is a lovely place to start one's day if ever visiting New Zealand's capital. 8/64 Dixon Street, Te Aro, Wellington 6011, New Zealand. qilinteahouse.nz. -Ryn Richmond
---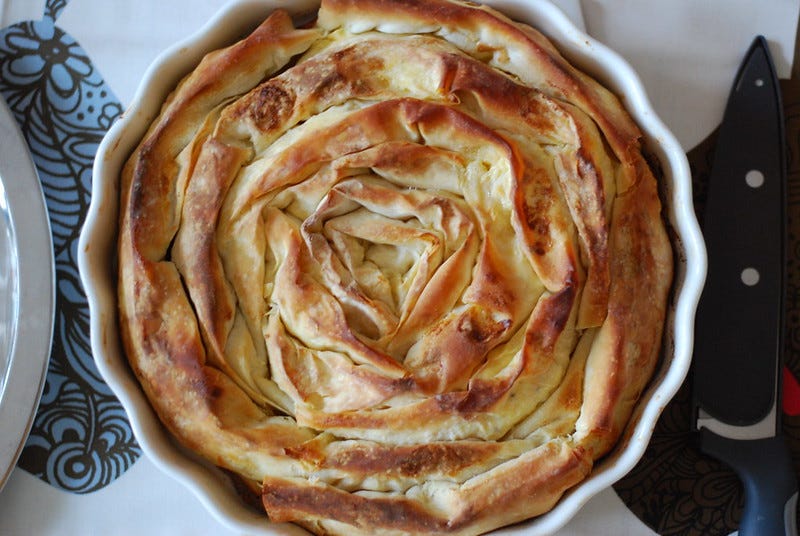 Photos: Merle ja Joonas/Flickr
The Fortune-Telling Power of Bulgarian Banitsa
According to Bulgarian legend, when God created the earth, he made it a large, flat disc. But when he tried to put the sky above it, he discovered the earth was too big. So God pushed the earth in at all sides, forming mountainous peaks and valleys on the surface, until it was the same size as the sky. He stepped back to admire his work and murmured to himself, "The Earth is now fluffy and soft as a Bulgarian banitsa."
You can see the planetary resemblance looking over the peaks and valleys of a banitsa. The traditional Bulgarian cheese pie layers eggs, yogurt, feta, butter, club soda, and other secret ingredients (depending on who's making it) between crumpled layers of phyllo dough, creating that flaky mountainous landscape. "It combines all the products of the earth and the animals looked after in the classic Bulgarian village," says Albena Darakchieva, a guide with Viking Cruises, who welcomes guests into her home in Bulgaria for banitsa-baking lessons.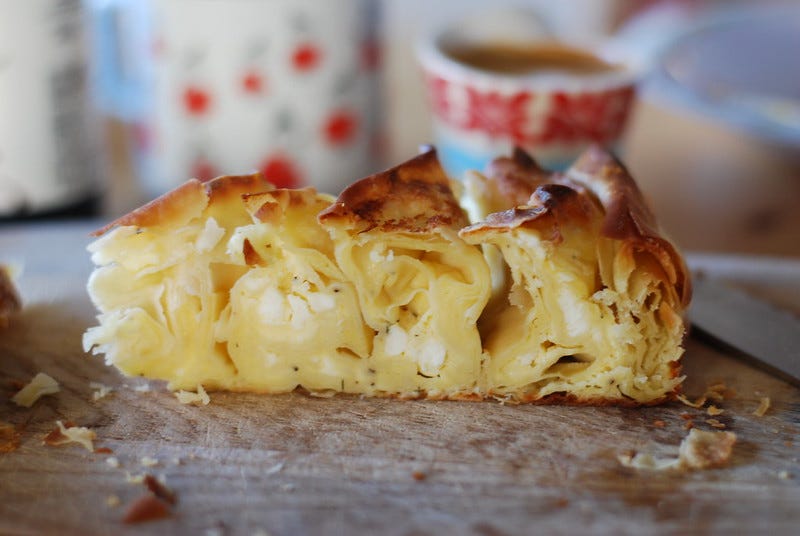 Banitsa can be sweet or savory, eaten for any meal, or served on special occasions. But during Christmas and New Year's, the spiritual side of the pie comes out and it becomes a fortune teller. That time of year, Bulgarians bake dogwood branches and blooms into their banitsa. The number of blooms on each branch corresponds to a different fortune, like health, marriage, or travel. Before serving, the host spins the pastry on the table. Everyone then takes a piece and counts the blooms on their dogwood branch to discover their fortune. The pie contains a single coin as well; whoever gets that will be the richest the following year.
And even though the fortunes aren't always the most accurate ("My 90-year-old great-grandma once found a 'new marriage' lucky charm," Darakchieva said), the meal will always hold a sacred place in Bulgarian food traditions.
"I cannot imagine our cuisine without it," says Darakchieva. "She is the queen proudly sitting next to her king, the Bulgarian yogurt."
Traditional Bulgarian Banitsa
Ingredients:
1 pound feta
1 package phyllo dough, thawed
6 eggs
1 teaspoon baking soda
½ cup plain yogurt
½ cup vegetable oil
½ cup Bulgarian lemonade or club soda
1 stick butter, cut into chunks
Directions:
Preheat oven to 350.

Crumble the feta cheese into a bowl. Beat in eggs, baking soda, and yogurt, being careful not to break up the cheese too much.

In a separate cup, mix together vegetable oil and Bulgarian lemonade or club soda. Pour into egg mixture.

Grease a large baking pan. Lightly crumple two sheets of phyllo dough and put them in the pan. Sprinkle some of the cheese and egg mixture over the phyllo dough.

Lightly crumple two more sheets of phyllo dough and put them on top of the first layer. Sprinkle more cheese and egg mixture over the top. Continue layering phyllo dough with the egg mixture until all but one sheet of phyllo remains.

Top the banitsa with the last piece of phyllo. Top with spread out chunks of butter. Bake for 20-30 minutes, or until the center bounces back when you tap it. If the top layer starts getting too brown during baking, cover with parchment paper.
---
More Food News
Jose Ralat (who will be on the podcast shortly!) wrote a little history about why the word "sanitary" shows up in so many Texas business names.
A coffee shop in Denver has increased worker pay and customer prices. Some people are mad about it, but I hope it works out.
A number of cookbooks written by Black people have been commissioned recently. A long time coming, and the authors are still coming up against problematic issues and people.
---
This newsletter is edited by Katherine Spiers, host of the podcast Smart Mouth.
A TableCakes Production.
Want to contribute? Here are the submission guidelines.