Discover more from Smart Mouth
Food history and culture, from writers around the world.
Over 2,000 subscribers
Bomboloni and Butter Chicken
The best of one, the history of the other
If you're enjoying Smart Mouth, please consider signing up for a paid subscription. The money goes toward paying our contributors. Substack sets the minimum at $5/month, so you can't give less than that,* but please feel absolutely free to give more. 
*If you would like to give less than $5, you can do that via Patreon, and it is very helpful and appreciated! You will also get podcast episodes one week early!
Thank you for your support.
Are we connected elsewhere? Say hi on: Instagram | Twitter | Facebook
Please forward Smart Mouth to someone who likes reading about foodways and culture!
---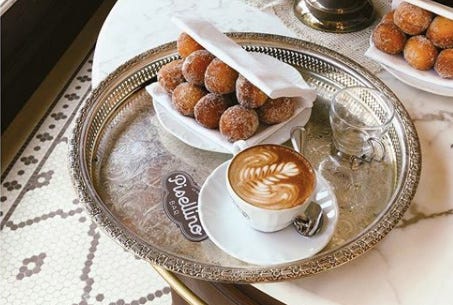 Photo: Bar Pisellino
Best Bomboloni in the West Village
Set into a cozy, triangular building in the heart of the West Village is Bar Pisellino, an Italian-inspired amari and aperitivi haven. Jody Williams and Rita Sodi, who also run the nearby Via Carota and I Sodi, have imagined into existence all the elements you want in a European-style all-day neighborhood cocktail café, perfected: Housemade amaro (a secret recipe), panini and pastries that look too good to eat, and a charming ambiance. 
One of the main menu delights is the bomboloni alla crema, pillows of sweet fried dough generously filled with the most decadent cream. The traditional vanilla cream is recommended, as you don't need to mess with perfection. 
While the café usually has standing room at the bar and several indoor tables lining the windows, it's currently providing outdoor seating, Mondays through Fridays 4 p.m. to 11 p.m., the perfect time to (try to) relax with your favorite aperitivo. You can get those precious bomboloni to-go on the weekends from 9 a.m. to 4 p.m., but arriving early is strongly recommended, if they're specifically what you're looking for.
52 Grove St., New York, NY 10014. barpisellino.com. -Laura Wheatley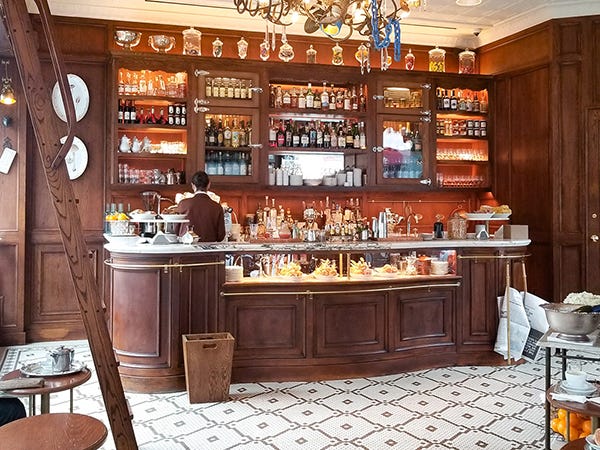 Photo: Laura Wheatley
---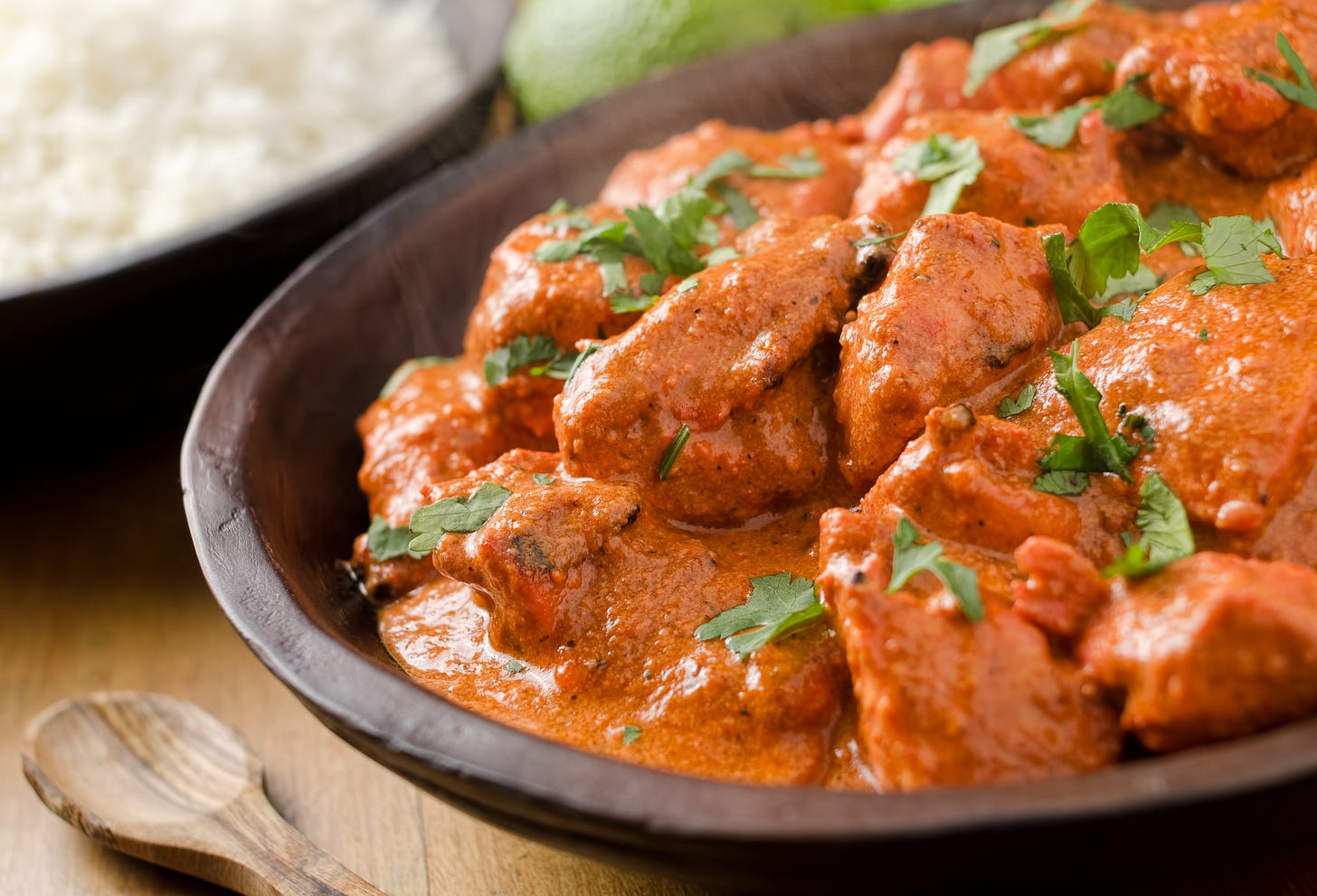 Kundan Lal Gujral and Butter Chicken
By Meher Mirza
It is something of a tragic irony that much of what the world perceives to be "Indian" food was born specifically in Delhi, and only after the country was cleaved into India and Pakistan. The Partition wreaked tremendous misery and bloodshed on its people, wrenching apart the Hindu and Muslim communities that had hitherto existed peacefully side by side. Many Hindus struggled out of the Pakistani part of Punjab, and slogged for miles and miles, drifting first into Indian Punjab, and then onwards to Delhi.
One among the refugees making the long trip on foot to Delhi was Kundan Lal Gujral, a man with roots in the restaurant business in Peshawar. Evacuated from what was to become Pakistan, he set up a home in Delhi. And it was here, in the warren of old Delhi lanes, that he launched his extraordinary career.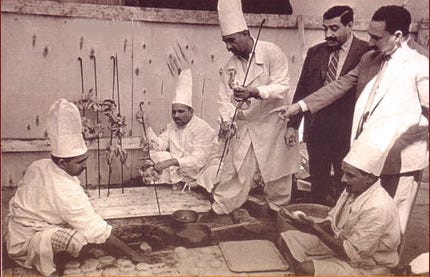 The tandoor oven has existed for centuries in India, but it was Gujral who harnessed it most effectively in the 1900s. He set his up in a dilapidated crumble of a building in the Daryaganj neighborhood, and started doling out tandoori chicken and naan from a small restaurant he called Moti Mahal. Old Delhi residents, not accustomed to chicken, at first dismissed these flavors. But Gujral's cooking, requiring no complex recipes, few ingredients, and no cutlery, eventually flourished. The fame of his tandoor slipped quietly across the city, bringing with it waves of hungry customers. Gujral's menu swelled. The chicken tikka crept into existence: chunks of chicken that emerge charred and smoky after their baptism in the tandoor. And so did the butter chicken, i.e. pieces of chicken luxuriating in a bath of tomato-butter sauce. Born of Gujral's need to spruce up dried-out leftover chicken, the butter chicken was a genius move, marrying economy with taste, and quickly rose to become one of Moti Mahal's most popular dishes. The same ingredients, united with dal, became the basis of the extremely popular dal makhani. Moti Mahal cultivated some extremely high-ranking fans, including Jawaharlal Nehru and Indira Gandhi. It didn't matter that the old guard sneered at Moti Mahal's simple flavors; it was well on its way to becoming an Indian icon.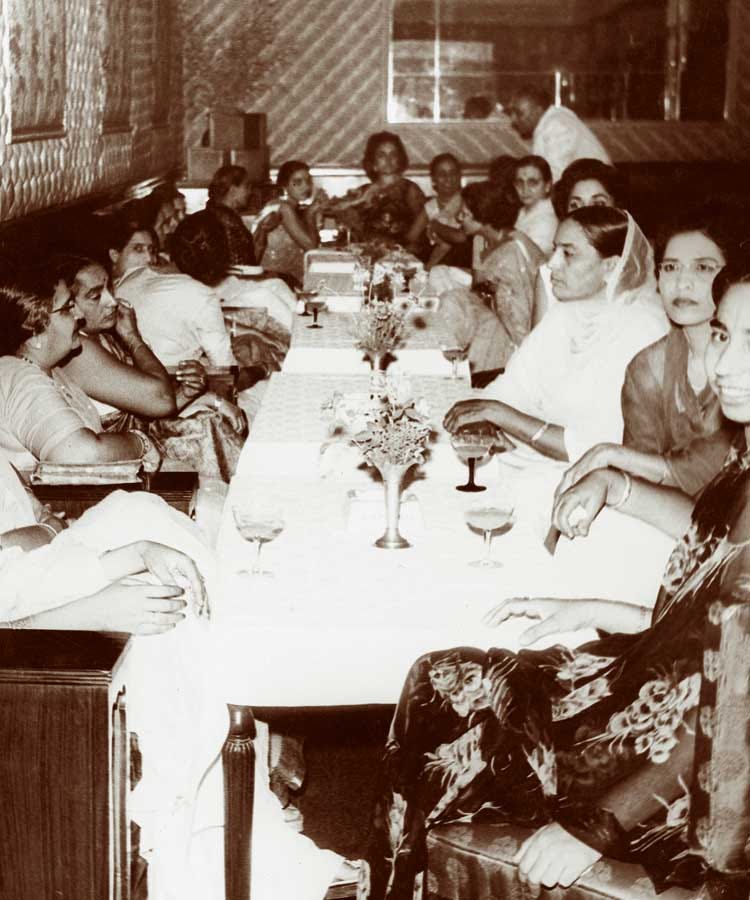 In Moti Mahal's wake came hundreds of similar restaurants, and a slew of dhabas opened near New Delhi's Central Pandara Road. Many migrants moved away from Delhi, opening restaurants around the country: by the 1970s, the tandoori and the butter chicken had found their ways onto the menu of many, many restaurants in the country. It has today become the default option for Indian food for many, both within India and without. 🍗
---
More Food News
---
This newsletter is edited by Katherine Spiers, host of the podcast Smart Mouth.
A TableCakes Production.
Want to contribute? Here are the submission guidelines.