Are we connected elsewhere? Say hi on: Instagram | Twitter | Facebook
Welcome to the first Smart Mouth issue of 2020! The topics at hand include a Texas treat, a Louisiana treat, and snacky seaweed. I remember in the '80s and '90s, when nori came only in full sheets, not in the pre-portioned little rectangles in plastic boxes. One had to be very thoughtful about whether to tear it, or just start chomping and hope for the best. Kids today, they don't know!
The podcast is back from winter break, too. We've covered grits and spaghetti carbonara so far. Spam is next week. If you have time, check out 2019's last episode, the history of home economics. It was a real barn burner!
For a while now I've been fascinated by Din Tai Fung - more specifically, how every location I've ever been to is always packed, no matter what time of day. I've been trying to get in contact with anyone at corporate there, but it seems to be the most press-avoidant restaurant chain in history. I have heard, from anonymous sources, the rather interesting note that apparently the founding family gives all credit for their success to their in-house feng shui master, who is in charge of picking restaurant locations. I'll be darned.
Where do you go for soup dumplings, besides Din Tai Fung? Tell me here.
Anyway, in lieu of a Din Tai Fung exposé, here is a picture of a torn-up bag of my new favorite snack: BBQ flavor fish skin crisps. - Katherine Spiers, editor and host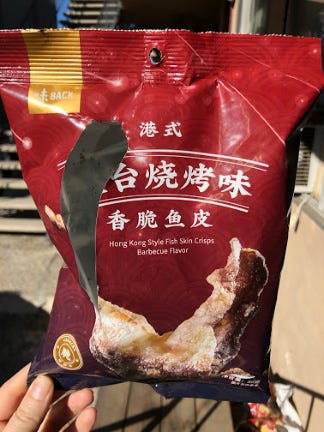 ---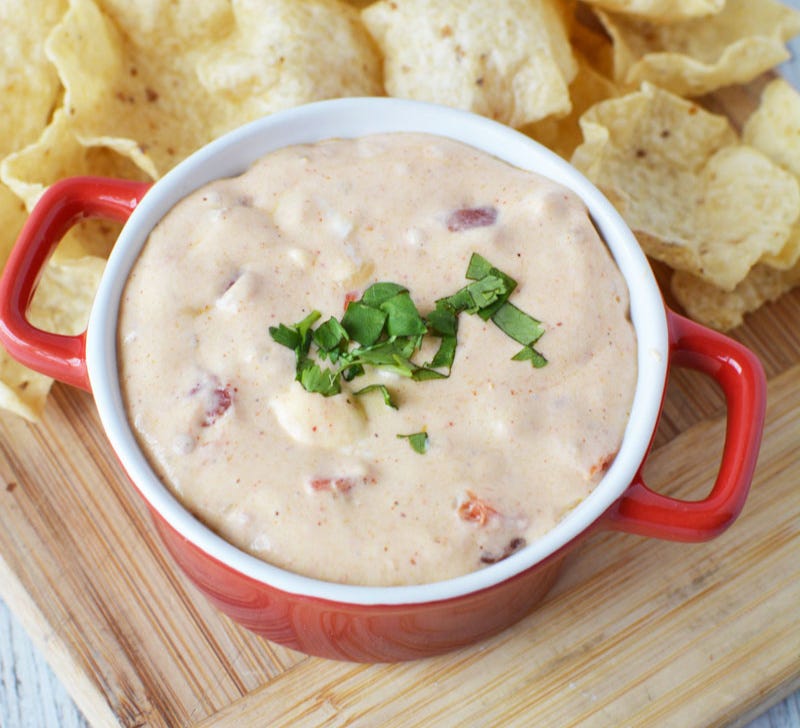 Photo: Trisha HAAS/Flickr
My Family's Great, But I Go Home for Queso
By Shani Silver
I left Texas in 2005, after 23 years of living in paradise. Little did I know that in leaving home and entering the Honky Tonk diaspora, I'd be confronted with all manner of culinary offenses, the least of which is what passes for barbeque outside our borders. I am a Texan, born and fed, and the most upsetting truth I've encountered in my life abroad is this: no one melts cheese like in the Lone Star State.
I'm speaking of course of queso. That's the Spanish word for cheese, but it has far greater meaning when spoken of as a stand-alone dish, if not a full meal. Queso is a melty cheese dip consumed with tortilla chips, preferably in front of a television on which one can view football. It falls somewhere along the spectrum of Tex-Mex to older Mexican cuisine. Wherever you place it, you are correct, as long as you also place it in your mouth.
Queso is the lifeblood, the nectar of our Texan existence. Melted cheese, sure, but we know it's so much more. It is memory, it is comfort, it burns easily - mind your crock pots. For those uninformed, the queso of which I speak is comprised of an extremely simple recipe, in its most basic format. (Texans reading this should know how fully aware I am of the family recipe additions often introduced to the classic. I myself have several.)
Ingredients:

1 can of Rotel

1 brick of Velveeta

Directions:

Empty ingredients from their packaging and into crock pot. Turn crock pot on. Wait. Stir. Eat.
Famous tattooed chefs who love to talk about the simplest dishes being the most significant can put this on their menu and serve it. Good luck to them. We Texan connoisseurs know full well that queso tastes best when served at home, and reaches its peak flavor potency on Super Bowl Sunday. If a Texan team is playing, this stuff might as well be hallucinogenic mushrooms.
Twice a year, I board a Delta magic carpet and fly home to Texas, either for one holiday or another or just because Brooklyn is annoying. I love my family; I enjoy coffee on the back porch with my stepfather and trying all the samples at Costco with my mom. They are both wonderful people whose company I enjoy very much. But I do not go home for these cozy catch-ups. I go home for cheese.
In daily life, it would never occur to me to order, much less consume, an entire bowl of melted cheese. But back home, it is inevitable. Naturally it takes me a minute to reacclimate to the bowls of free salsa that would easily cost me $8 elsewhere, but once their novelty has worn off, I'm ready to get to the good stuff. And every time I take my first bite, my brain surges with equal parts ecstasy and confusion. Why doesn't good queso exist outside of Texas?
Texas is, according to my extensive research, the only locale in which queso has the ability to perfectly come together in culinary harmony. I don't know why - I don't make the rules - but melted cheese just tastes better in Texas, be it a bowl of Mag Mud from Austin's Magnolia Cafe, or a delightful cup of Torchy's queso with margarita accompaniment. Every time I've seen Queso on a menu outside of Texas, I've ordered it. And every time, I've been left wanting more.
I tried to make it once in New York. I went to countless grocery stores. I even thought Target might have my back. In the end, I had to order my Velveeta from Amazon. I managed to locate a can of Rotel by some miracle, so I bought three to have around just in case. I added my preferred additional ingredients (sausage crumbles and four ounces of Philadelphia cream cheese). I even brought my crock pot into the living room, for group sports viewing. I thought I had all the variables managed, but upon first bite, something was wrong. Something was missing. It's like it knew. It knew it wasn't home.
There are other things I need upon return to the motherland, sure. A Sonic limeade, perhaps with tater tots if I'm in the mood. And heaven knows I can't set foot on Texan soil without a breakfast taco or seven. But it's queso I come for, it's queso I return for, and indeed it is queso I shall search for everywhere I roam. I can think of worse hobbies, and I can't think of better snacks. 🏈
What's your favorite location-specific treat? Let's talk about it here.
The Meatball King of New Orleans
Originally based in the back of a well-known (but, unfortunately, recently closed) heavy metal bar called Siberia, Matthew Ribachonek's Green Room Kukhnya has long been one of New Orleans' relatively unsung treasures. Serving "Slavic soul food" based on Ribachonek's grandmother's Eastern European recipes, Kukhnya, which genuinely doesn't seem to have a bad offering on its menu, is a place where one can eat their weight in pierogis. It's also home to, bar none, one of the city's best sandwiches: the Ukrainian meatball po'boy.
There are a lot of creative spins on the New Orleans sandwich staple, but Kukhnya's meatball variation is one that feels especially effortless and natural. Spiced beef and pork meatballs, along with kapusta (a savory braised cabbage usually served as a side dish), provolone, horseradish aioli, and deli mustard are stuffed into traditional po'boy French bread for one of the town's best bar meals. The richness of the meatballs coupled with the sharp, tangier accents from the horseradish and brown mustard somehow work anytime of the year, but, of course, the colder months are when the meal really feels the most appropriate. Paired with a glass or two of Zabrowka – a Russian vodka spiced with a sprig of bison grass – and there really isn't much better than that, folks. There are all manner of great po'boys in the Crescent City, but Kukhnya's is one of the first to try. 1300 St. Bernard Ave., New Orleans, LA. (504) 766-1613, greenroomnola.com. -Andrew Paul
---
Photo: Geoff Peters/Flickr
Whence Are Seaweed Snacks?
By Julie Kendrick
United Statesians are eating more seaweed than ever before, with consumption rising seven percent annually. While the sea vegetables are historically treasured ingredients in many Asian cuisines, their growing popularity on menus and grocery store shelves in the United States is a relatively recent phenomenon.
The history of seaweed snacks and their entry into the mainstream U.S. snack market is more straightforward than that of seaweed salad. Oiled and salted nori crisps, made from the red seaweed that turns black and green when dried, are a popular snack food in Japan and Korea. The tipping point for their popularity in the United States seems to be around 2009. That's when Mark Bittman published a recipe for nori chips in The New York Times and when Trader Joe's - the ultimate hunting ground for aspirational, lunchbox-packing parents - began selling their "Roasted Seaweed Snacks."
Seaweed salad as it is known in the US is a child of the '90s. It had become a culinary darling at least by 1997, when the New York Times featured a Susan Hamlin article titled "From Japan, a Big Wave of Seaweed." Noting that some were calling it "the coleslaw of the '90s," Hamlin sang the low-fat praises of the dish (this was the '90s, after all). She also did some label reading and noticed the inclusion of artificial dyes to achieve that bright green color.
Hamlin's article presented seaweed salad as entirely Japanese, but that's not the case. Even though many people's first introduction to the dish is as a side salad in a Japanese restaurant, in Japan it is known as "chuka," a shortening of the term used to describe foods that originated in China (中華料理 or chūkaryōri). Some believe it was originally conceived as a faux-meat dish, since it has some textural similarities to Chinese jellyfish salad, which is marinated in a similar dressing and offers up that same addictively rubbery texture.
"It's a Chinese dish with Japanese flavors added to it," says John Sugimura, the chef and owner of PinKU Japanese Street Food restaurant. While the dish is synonymous with Japan here in the United States, it's not something that's typically served there. Recipe writer Marc Matsumoto says "it's not something most restaurants would serve, especially not a proper sushi restaurant." A typical Japanese home cook, he said in an email, "might make a home-style seaweed salad that's a mix of seaweed on a bed of vegetables such as lettuce, corn, cucumbers, and tomatoes."
And now you know how to make a meal of it. 🌊
---
Read these:
This newsletter is edited by Katherine Spiers, host of the podcast Smart Mouth.
Please forward to a food-loving friend!
A TableCakes Production.