Discover more from Smart Mouth
Food history and culture, from writers around the world.
Over 2,000 subscribers
Ahoy, Pizza Man
Peckish on the high (well, low. Very low) seas
I took a very quick trip up to Seattle and the Olympic Peninsula. We thought about eating at a place in Forks that offers Twilight-themed burgers, but it was closed, so we ate our cheese and bread and sausage, which I'm pretty confident was better anyway. In Seattle, two restaurants made me happy: Musang in Beacon Hill, and Pick-Quick in SoDo. The French fries. Ohhhh my lord, the fries. -Katherine
If you haven't become a paid subscriber yet, please consider it. The money goes straight to paying freelancers a good rate - much better than most publications. And if not that, click on the heart icon above so I know you're reading! Please enjoy the article below by Chadd Scott.
Ahoy, Pizza Man
By Chadd Scott
Where do the best ideas come from? Usually the kitchen.
"We banter in the kitchen at night – I'm usually on the pizza line – as we're slangin' pies and pushing out food, we crack jokes, we talk to each other," says Sean Ferraro, chef and owner at Madison Avenue Pizza in Dunedin, Florida, about the genesis for his Pizza Skiff. "It was just kind of a thing in passing: delivering pizzas on a boat."
Madison Avenue Pizza's location near the St. Joseph Sound and the thousands of people who enjoy the water, sandbars and islands therein each weekend seemed to hold potential. When Ferraro ran across a 15-foot skiff designed for shallow draft on Facebook Marketplace, he knew the time had come to test his theory.
"I was terrified," says Ferraro. "I spent like $10,000 getting this boat up and running. My wife thought I was crazy."
His fears subsided on his maiden voyage.
"I packed up all these pizzas and sold all of them almost immediately," Ferraro says.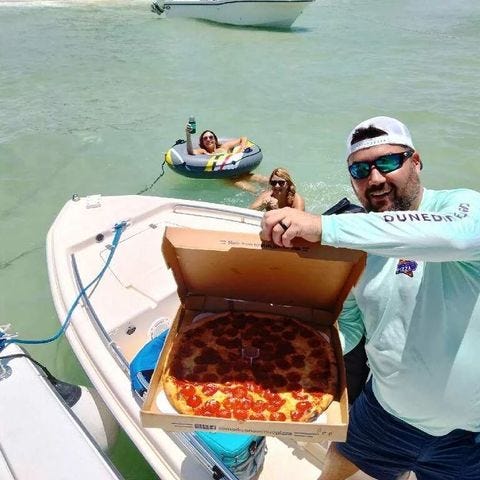 Unlike more traditional four-wheeled delivery, Ferraro's Pizza Skiff doesn't take orders. He loads up 10 pizzas in a container designed to keep them warm, then hits the water soliciting boaters via megaphone. Each 14-inch pizza costs $20. When he sells out, he returns to the dock where his staff restocks from Madison Avenue Pizza's nearby brick-and-mortar location. A good day finds him selling 50 pies from the skiff.
The boat only operates on weekends, always with Ferraro at the helm. There isn't enough boat traffic during the week to generate sales, and he'll put the boat away around November 1 when the winter weather begins.
Despite Pizza Skiff's popularity, he has no plans to expand.
"The boat is expensive. There's maintenance," Ferraro says. "It's a huge time commitment. Every time you put the boat in the water, it's the entire day. I leave the house at 8am, I'm not home until 6 or 7pm."
Ferraro admits the skiff isn't a big moneymaker; the restaurant has better profit margins. All of the media attention and social media buzz it has created, however, serves as a great marketing tool. Plus, there's another reward.
"Everybody's so happy to see you. The customers out there are ecstatic." 🛥️
---
More Food Reading:
I had been noticing how common omakase has become, and along comes this article by Jaya Saxena. Her writing is so great - she's not telling a blind love story here.
If you liked the newsletter today, please forward it to someone who'd enjoy it, and tap the heart icon above or below, which will help me reach more readers. I appreciate your help, y'all!
This newsletter is edited by Katherine Spiers, host of the podcast Smart Mouth.
A TableCakes Production.
Want to contribute? Here are the submission guidelines.