Smart Mouth: the Newsletter
My food media empire grows ever stronger, bwahaha
Hello! Katherine Spiers here, announcing my shiny new e-newsletter. It's a companion to my food history podcast Smart Mouth (I'm about 150 episodes in), but it won't cover the exact same topics. They're sisters, not twins.
In fact, I won't even be doing all of the writing here. I'm commissioning articles from food and culture writers around the world; they'll be a mix of short "try this, you'll love it" pieces and longer (but not longform) features. Coming up we've got a history of British afternoon tea, a dive into New Mexico's Rio Grande cuisine, and the story of one New Jersey town becoming a food destination, on the strength of its restrictive liquor laws, somehow. Today, we're starting with dispatches from Annapolis and Chicago.
I'm paying contributors about $1/word which, sadly, is a pretty dang good rate for food media. In a couple months I'll be switching this to a paid-subscription format: here's hoping I've convinced you to give us money by then. (Speaking of which, if you want to buy ad space here or be a journalism fairy godparent and help out financially because you're an angel, email me at katherine@tablecakes.com.) Right now I'm thinking this newsletter will publish every other week - Substack, our host, would prefer I post more than once a week, but I'm not convinced that's the way to go for this particular project. If you have thoughts about that, let me know.
Okay, that's enough from me today. Enjoy the articles below, tell all your friends, have an excellent Thursday!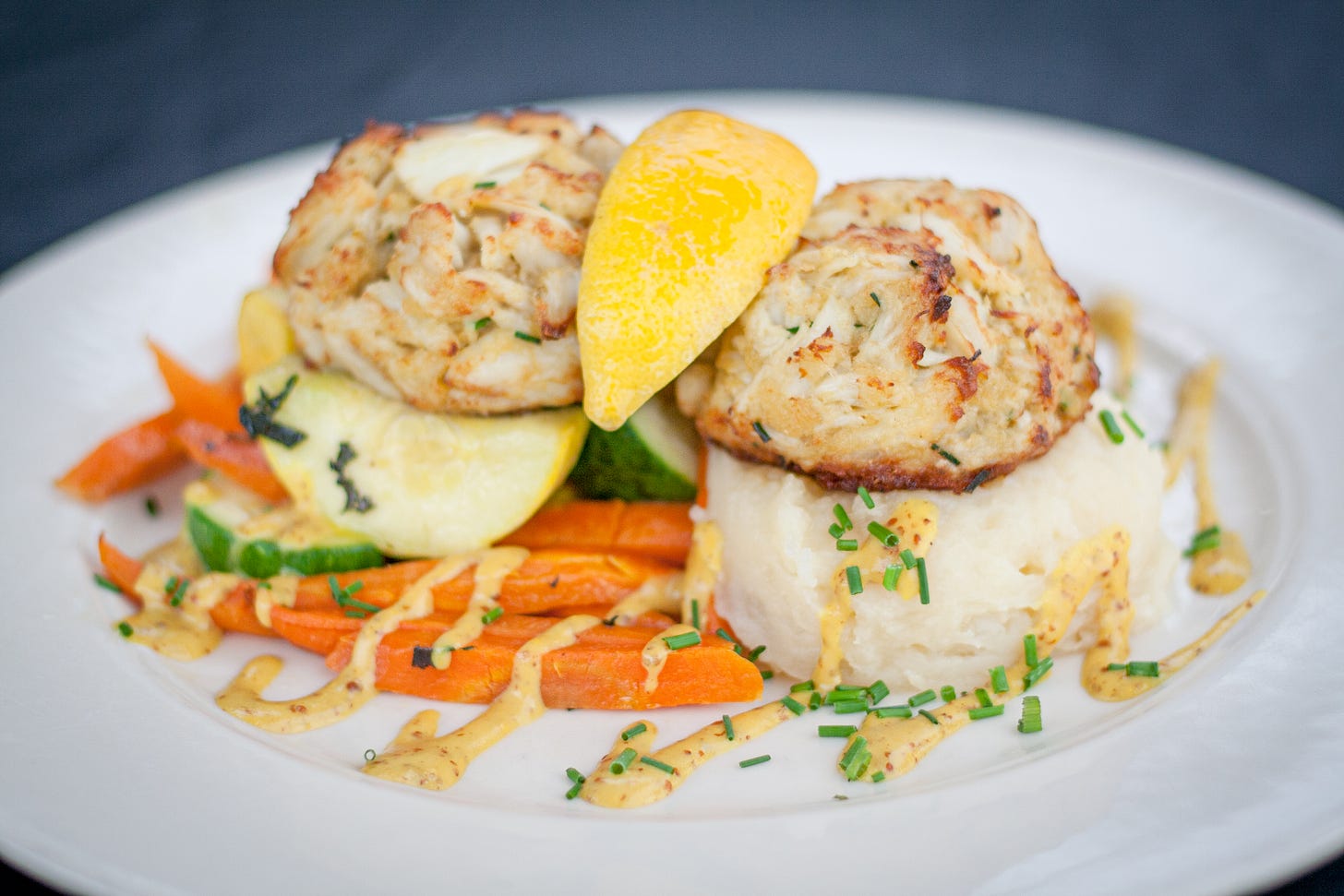 Photo: Madeline Serio
The Perfect Crab Cake 
Maryland's capital city, Annapolis, is also the unofficial sailing capital of the United States, and with good reason: the city sits on the Severn River, part of the Chesapeake Bay watershed. Annapolitans love all water-based activities, from sailing to kayaking, paddleboarding to waterskiing, and of course, crabbing. In season (late May to early October, peaking in the fall months when the crabs are larger and heavier), visitors won't find a restaurant in Annapolis that doesn't offer at least one crab-related dish, including the acclaimed Maryland jumbo lump crab cake. 
Carrol's Creek Cafe has perfected its crab cakes with minimal fillers, fresh jumbo lump meat, chopped chives, plenty of Old Bay seasoning, and a dash of tabasco. They're topped with a sweet, tangy mustard vinaigrette. During crab season, the crab meat is locally sourced, but in other months it is imported from further south. The restaurant offers other seafood year-round, including swordfish, salmon, regional oysters, rockfish, clams, mussels, and scallops.
The waterfront restaurant overlooks the bustling Spa Creek marina in the heart of Annapolis, which hosts Wednesday night sailboat races you can watch from the restaurant's patio. Patrons indoors or outdoors can enjoy views of Annapolis' historic landmarks the Naval Academy chapel, the State House, and the steeple of St. Mary's Parish. 
The crab cake entree is served over roasted garlic mashed potatoes with a side of roasted vegetables. It can be made gluten-free. 410 Severn Ave #100, Annapolis, MD; (410) 263-8102; carrolscreek.com. -Meredith Alston
Smart Mouth did an episode about the history of crab cakes two weeks ago. Marylanders have an intense relationship with them.
[Ed. note: I've got some questions about mashed potatoes. Please answer them in this thread. I'm nosy about food preferences.]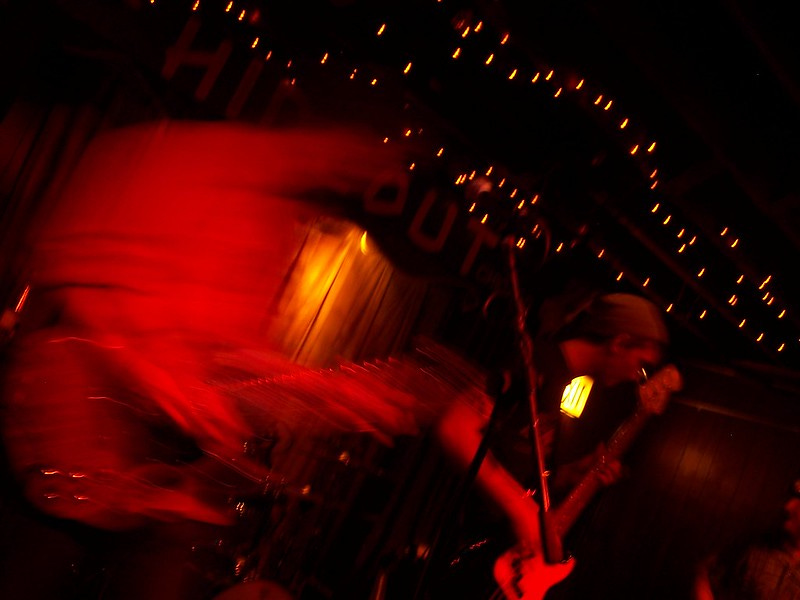 In Pursuit of Chicago's Roaming Tamale Vendors
By Lillian Stone
I moved to Chicago six months ago with a suitcase full of sweaters, a flatulent Boston Terrier and a homemade spreadsheet dividing the city's legendary dining scene into color-coded quadrants. After admitting to myself that a weekly trip to Alinea was out of the question, I whiled away my first month as a Chicago resident at Hopewell Brewing Co. in Chicago's trendy Logan Square neighborhood. There, in a sea of perfectly groomed mustaches and pricey canvas backpacks, I met Chicago's preeminent roaming tamale vendor: Claudio Velez. Known to locals as The Tamale Guy, Velez strolled into the brewery in a baggy hoodie, shuffling through the crowd with a red Igloo cooler and muttering, "Tamale, tamale!" He was there to hawk his wares: dozens of traditional pork, chicken and cheese tamales, sold in bags of four. Cash flew as Hopewell's hip clientele claimed their late night eats—and then, just as quickly as he had appeared, Velez was gone.
The Legend
Velez has made a name for himself as the go-to tamale supplier on Chicago's Near Northwest side for more than a decade. He's a welcome sight at 1 a.m., working his way through a cluster of bars that serve drinks long after the neighborhood kitchens have closed. Of course, in a city the size of Chicago, he's far from the only roaming food vendor. A sly competitor stalks a similar route with a blue cooler, and they've both reached cult hero status. They even have their very own Twitter account run by an anonymous do-gooder devoted to tracking their whereabouts. Still, most of the information about Chicago's tamale guys is left to legend, with whispers of bitter tamale turf wars and secret recipes.
As a newcomer to the city, I was hungry for more information. I embarked on a tamale stakeout, posting up at trendy outposts in Logan Square and Wicker Park in an attempt to learn more. After a few weeks, I caught Velez at The Hideout, a popular venue on the outskirts of Wicker Park. I heard him before I saw him: "Tamale, tamale," he shouted over the din of punk music. I sidled up as he pocketed handfuls of cash. He declined an in-person interview, giving me his phone number instead. I called the next day, but the number was out of service. I kicked myself, then remembered something a Logan Square bartender told me the week prior. "They're not really talking to people anymore," he said. The bartender wasn't sure exactly why the tamale guys had upped their discretion, but he had a few theories: increased competition on the street, consequences from the Health Department and uncertain immigration statuses, to name a few.
The Legacy
I was disappointed that I had missed out on an interview, but in hindsight, it's probably better that way. For native Chicagoans, the tamale guys are some of the few remaining signposts of Chicago's rapidly dwindling grit. As Velez and his competitors sell their products, the neighborhoods they serve are gentrifying at breakneck speeds. Neo-tiki bars and sleek coffee shops invade traditionally working-class Latinx neighborhoods like Logan Square, Avondale and Pilsen, while white chefs co-opt traditional Mexican food, slinging $10 "street tacos" on Instagram-friendly patios. As the city's authentic cuisine is stripped down, dolled up and hashtagged, maybe it's better to let the tamale guys do their thing—no questions asked. In the meantime, I've joined the rest of Chicago's tamale hunters. We lie in wait, cash in hand, ready to pounce on the savory goods whenever we hear a hushed "Tamale, tamale." If there's one thing I've learned, it's that the tamale guys move fast. If you're not ready, you might miss them. 🌽
---
Read These
Raspberry Vinaigrette: Jamie Feldmar outlines how a little piece of '80s California cuisine became a country-wide craze. Well, a mini-craze. I certainly remember my mom's raspberry chicken, made with the dressing and fresh raspberries. Haven't had it since high school, and now I'm craving it.
Dinner at the Coffee Table: The dinner parties described here sound timeless to me, but I love all "hell yeah we're millennials, we're here to ruin your Boomer fun" articles.
Not All Festivals: Great LA Times feature on the uneven economics of food festivals. But it doesn't mention the LA Times food festival and I want to knowwwww.
Yeah, Tiki Is Weird: I love tiki stuff. I'd beat you at tiki trivia. But it's a little problematic! This is an even-keeled article about the issues by Alicia Kennedy, who also gets all the history facts right, which rarely happens in tiki coverage.
Forward this newsletter to a friend!
Smart Mouth:
Podcast | Instagram | Twitter | Facebook
A TableCakes Production
---