Discover more from Smart Mouth
Food history and culture, from writers around the world.
Over 2,000 subscribers
Are we connected elsewhere? Say hi on: Instagram | Twitter | Facebook
Please forward Smart Mouth to someone who likes reading about foodways and culture!
---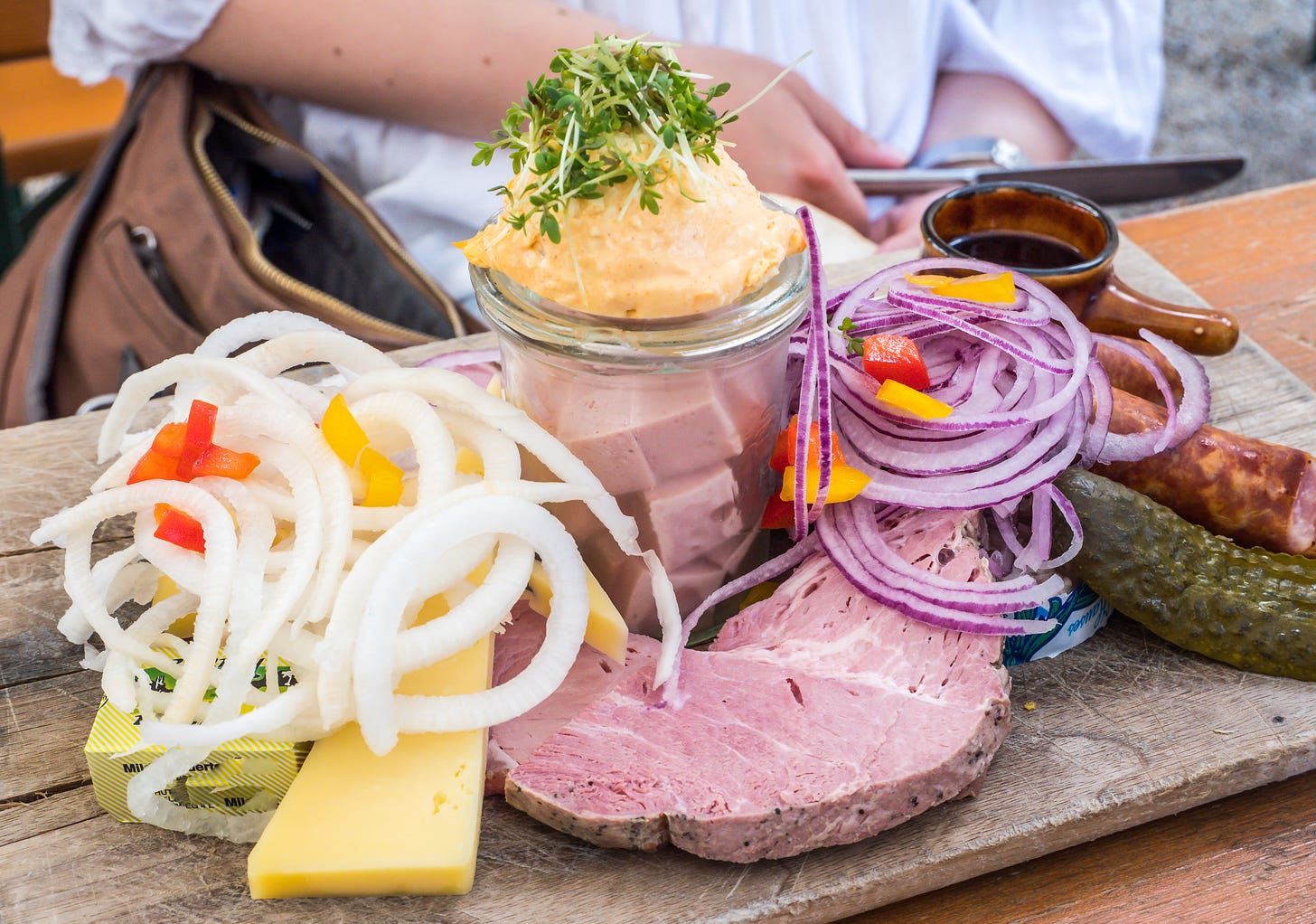 Goodbye 'Snack,' Hello Brotzeit
By Susannah Edelbaum
From Schadenfreude to Doppelgänger, there's no concept too particular to escape definition by a nifty German compound word, and your easy lockdown repast of this-and-that pulled from the fridge is no exception. Move over, charcuterie board and snack dinner, and make way for Brotzeit, which translates as "bread time" but encompasses so much more. 
"This is a term that originates and sits firmly in Bavaria, but it's a very pan-German thing to say all over Germany," says Ursula Heinzelmann, author of the German food history tome "Beyond Bratwurst." Order Brotzeit (BROHT-zait) at a Biergarten in the country's south, for example, and you'll get the traditional version: big soft pretzels and/or bread, some kind of wurst, pickles, cheese, and the star of the show, Obatzda, a rich Camembert- and butter-based spread seasoned with caraway seeds, chives, or any other number of sharp, tasty flavors. These are Brotzeit's origins: a flavorful solution to the munchies wrought by your first beer of the day.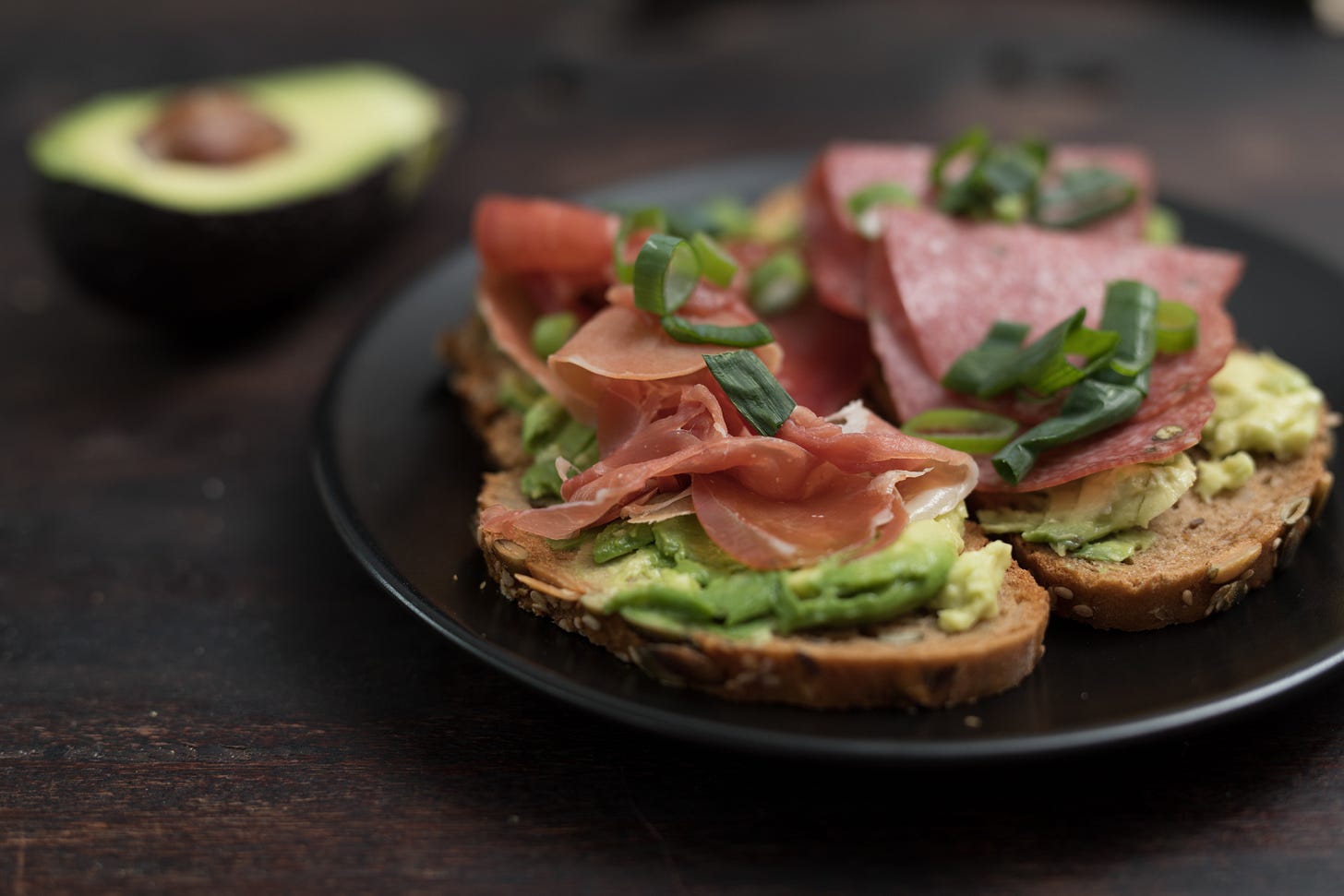 An invitation to sit down for a casual meal at someone's house, however, can also be referred to as Brotzeit, with or without the beer and Obatzda. In this case, Brotzeit simply means an easygoing spread of items that don't require cooking. As Heinzelmann explains, "in the south, bread is very much one carbohydrate at the same level as potatoes, potato salad, spätzle, or dumplings," meaning that a repast of whatever's on hand, anchored by bread, makes for a perfectly acceptable meal at any time of day. Only for clarity's sake will your host likely let you know you'll be having Brotzeit as opposed to Abendessen (a hot dinner). 
According to Heinzelmann, over the past few decades typical German eating habits have also shifted away from a big, warm midday meal and a cold dinner, known as Abendbrot (evening bread); now the main warm meal is taken in the evening. Hence, Brotzeit's evolution from Bavarian beer accompaniment to a widely used phrase: Abendbrot may comprise the same idea, but it's limited to, well, the evening. 
And in a youthful, international city like Berlin, for instance, it's not surprising to be offered homemade Brotzeit with items like octopus salad, crudités, hummus, and perhaps hardly any bread at all. If this sort of meal seems reminiscent of your own casual alternatives to intensive lockdown cooking, consider helping Brotzeit make like Kindergarten, Zeitgeist, Wunderkind, and über. It's a most useful German import. 🍞
---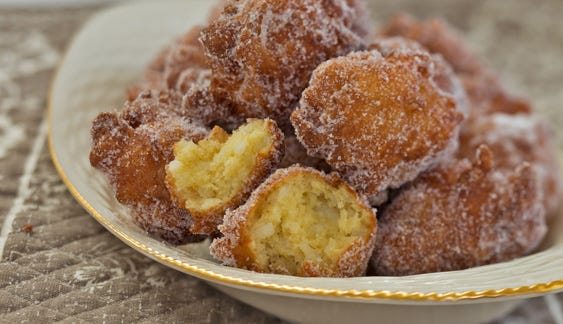 Photo: Anson Mills (recipe at link)
A New Orleans Dessert That's Hard to Find
Beignets? Overrated. For a true taste of old New Orleans, you want calas. Crispy outside; tender, almost custardy inside, these sweet, ethereal rice fritters were once the city's favorite street food.
New Orleans loves rice. The grain came via enslaved West African rice growers, who  cultivated Louisiana's rice plantations. Under French colonial law, enslaved people had one day off per week; many spent their Sundays selling calas, turning leftover rice into profit.  
Before the Louisiana Purchase in 1803, slaves had the right to purchase their freedom. Over 1,400 people did so, and calas were big moneymakers, says "Louisiana Eats" radio host and food historian Poppy Tooker. Generations of free Afro-Creole women, before and after the U.S. took over, sold them on the streets of the French Quarter, singing out, "Belles calas, toutes chaude." Beautiful calas, nice and hot. 
Tooker and writer Lolis Eric Elie (Treme, Smokestack Lightning) agree on the secret to making calas: using cooked and cooled rice to keep the fritters light. They part ways on the recipe. Elie makes a yeast batter to get a slightly fermenty flavor. Tooker makes a baking powder batter.
Both versions are a breeze compared to beignets."Beignets are a pain in the ass," says Tooker. "You have to rise, cut them, and a percent don't puff up, even at Cafe du Monde."  
So why did beignets make it into mainstream consciousness and calas didn't? "Racial implications," says Elie. "Calas were street food made by Black women. Quite possibly, calas were viewed as something beneath a light society."
Calas vendors disappeared around World War II and became almost strictly a home-cooked treat.
While a few local restaurants have served fancy versions of calas, Elie doesn't think that's the right place to experience them. A beignet is a beignet, but a cala "says something about who are you are and where you're from." -Ellen Kanner
---
Restaurant Recommendations
[As always, restaurant recs are currently for take-out and/or daydreaming purposes only.]
An all-Milwaukee edition, in honor of the DNC.
Three Brothers Serbian food! You can't go to Wisconsin and not eat Serbian food. Get chicken paprikash and borek.

Holy Land A restaurant and grocery. It's halal and you can order a feast of many shishes.

Vanguard Sausages. This place is supposed to be one of the best for them, and it does all kinds of new-timey tubed meats in addition to the Central European standards. The "Thai" sounds delicious.
More Food Stories
I guess I'm obsessed with Wisconsin!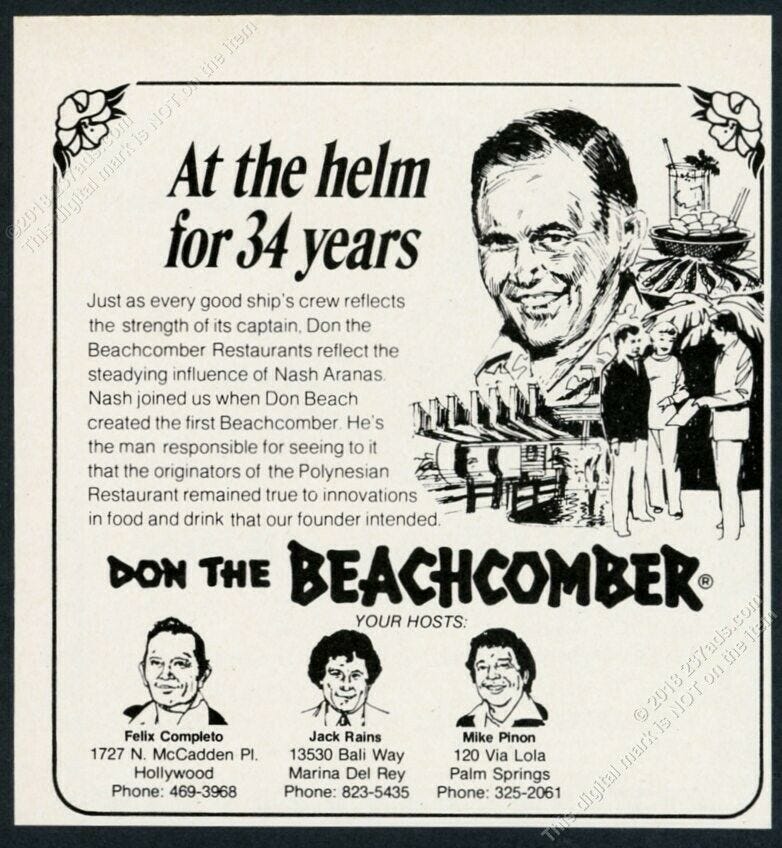 ---
This newsletter is edited by Katherine Spiers, host of the podcast Smart Mouth.
A TableCakes Production.
Want to contribute? Here are the submission guidelines.