Are we connected elsewhere? Say hi on: Instagram | Twitter | Facebook
Please forward Smart Mouth to someone who likes reading about food!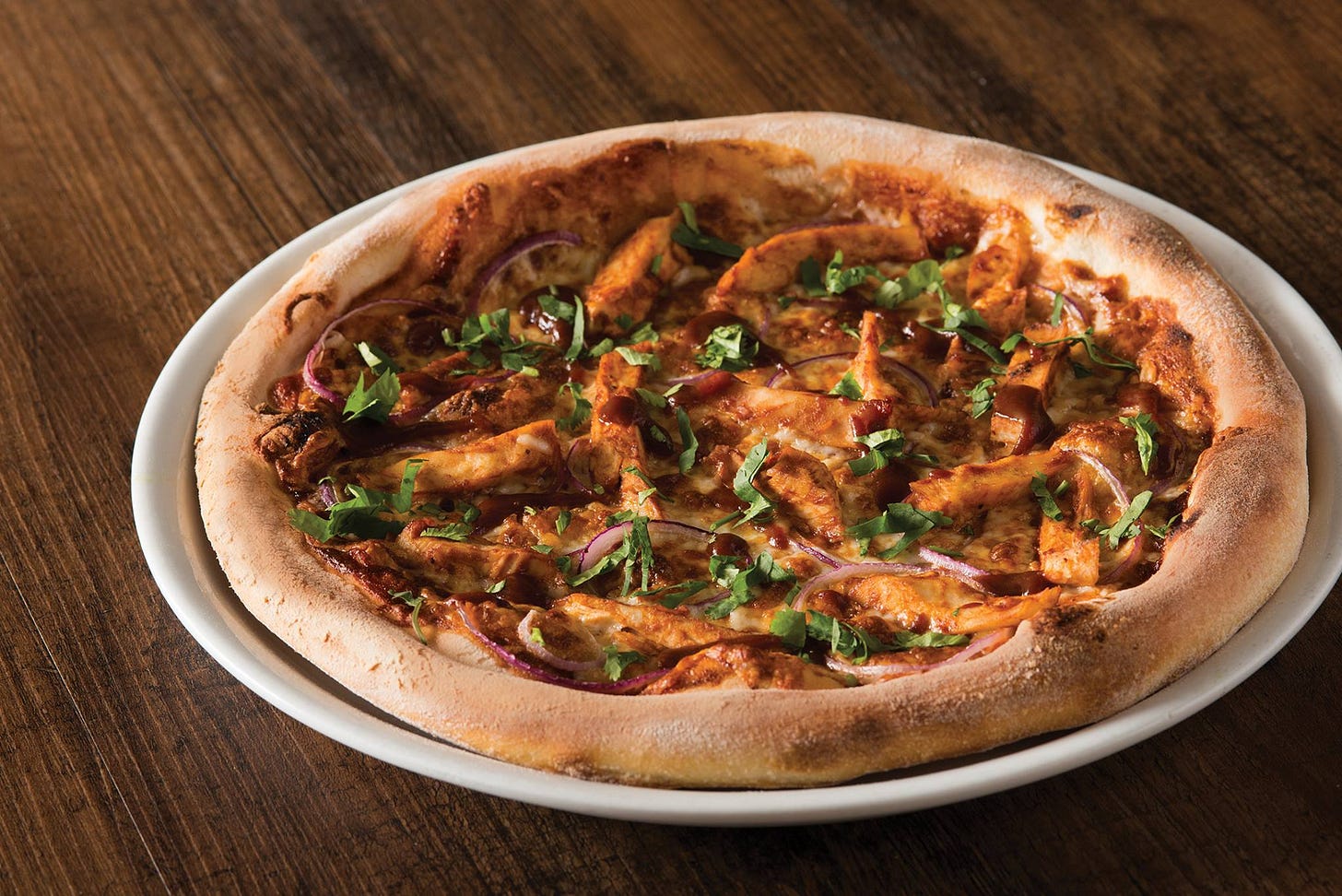 Photo: CPK
The Old New World of California Pizza Kitchen
California Pizza Kitchen and I have a shared history. We were both founded in 1985 by Jewish people. We both grew up in California, six hours apart: the first CPK opened in Beverly Hills, while I grew up in San Francisco. Unlike CPK, I'm not the product of attorneys, and my monetary net worth can't hold a candle to the $100,000,000 PepsiCo paid for 67% of the franchise in 1992 (in 1992 I was still stashing five-dollar bills in my Badtz-Maru wallet). But me and CPK, we go back and our roots run deep. And it's more than mid-'80s coincidence or geographical happenstance: the fast-casual restaurant is baked into my genetic code, as much a part of my DNA as hella or liberalism or fear of drought.
When my mother hitchhiked out to Berkeley from the East Coast in her youth, her relationship to vegetables flowered and flourished. A child of the '50s, she came of age on canned peas, TV dinners, and raw carrots suspended in aspic. Years later, in our small kitchen in the Bernal Heights neighborhood, she spoke wonderingly of her introduction to the world of fresh produce; of Alice Waters and The French Laundry and how she didn't know pumpkin could be used in soups and cakes. She did not speak of Ed LaDou, then the pizza chef at Wolfgang Puck's Spago restaurant, who developed CPK's signature BBQ chicken pizza. But the spirit of her awakening lived on in the California Pizza Kitchen's novel approach to America's favorite savory pie: over the years, the restaurant continued snatching up flavors from around the world, building pizzas like "Jamaican Jerk," Spicy Chipotle," and "Thai Chicken," which comes topped with a crunchy, herbaceous bouquet of bean sprouts, julienned carrots, slivered scallions, and cilantro. For me, CPK's signature black palm tree logo became emblematic of a certain type of pizza: not the sausage-studded pies from our neighborhood place, but a lighter, more diplomatic affair. "I like that it's not too heavy," my mother would say. She was speaking of the thin crust and vegetable toppings, but also the state of California as a whole.
Over the years, California Pizza Kitchen has had its ups and downs (that deal with PepsiCo didn't go so well). They've expanded into adult beverages and entrees with items like the "Cha Cha Agua Fresca" and "Kung Pao Spaghetti," continuing to play with the idea of culinary authenticity: a more suburban, corporate version of "Ugly Delicious." I've moved forward too, leaving my home state to live in the Midwest. But no matter where I go, I bring with me the fresh perspective CPK and my mom inspired, which is to say, I'm always happy to see a pizza that wears salad like a crown.🍕
---
Photo: Simon Reddy/Alamy Stock Photo
Custard and Community for Eid
I grew up in a village 65 miles from Sri Lanka's capital city, Colombo. My neighbor Ruzmi was my dear friend, joining me in making sand cakes for our stuffed animals and sailing paper boats in the nearby stream.
During Ramadan, his mother brought my family a plate full of biryani every day. Sometimes, there was a jug of falooda, a combination of milk, rose syrup, and basil seeds topped with a generous scoop of ice cream. She always arrived before iftar, the evening meal that marks the end of the daily fast for Muslims. She shared her food with us before she ate.
We never returned the dishes empty. For Ruzmi's family, my Sinhalese-Buddhist mother cooked rice with coconut milk and prepared a spicy condiment with chopped onions, chili, and Maldive fish. She squeezed in half a lime and sprinkled in some salt for sublime taste. Both our mothers cooked their best dishes for each other. When we returned the tiffin box with diagonal-shaped milk rice pieces, we shared love. We shared a sense of togetherness.
During Eid al-Fitr, which marks the end of Ramadan, we awaited the big feast with biryani and roasted chicken. But there was something we especially looked forward to: Watalappan. We salivated at the sight of it.
Muslims in Sri Lanka prepare watalappan for Eid al-Fitr. This celebratory dessert is a custard prepared with coconut milk and palm jaggery and seasoned with cardamom, nutmeg, and cloves. It's topped with cashews. The silky-soft watalappan oozing with palm syrup that we shared on Eid symbolized our shared community.
I never saw Ruzmi again after I went to the mountain city Kandy for high school. At 19, I relocated to Colombo for university. In all my classes, I had Muslim friends. On every Eid al-Fitr, just as Ruzmi's mother once did, they all brought watalappan to share.
In recent years, anti-Muslim sentiments have seen a rise in Sri Lanka, sometimes causing violence. The aftermath of the Easter Sunday bombings last year was a return to those ethnic tensions. Yet, my Muslim friends still visited with watalappan.
As religious gatherings are currently prohibited to control the spread of COVID-19, our Muslim community spent Ramadan in isolation. The local government reimposed a nationwide curfew over the Eid holidays to prevent gatherings.
A friend told me that he missed daily prayers at the mosque, but more than that, he missed the sense of community Ramadan usually brings. He invited me over for post-Eid watalappan. What's a better way to create fellowship than over a tub of watalappan, even if it comes after Eid?🥚
---
This newsletter is edited by Katherine Spiers, host of the podcast Smart Mouth.
A TableCakes Production.
Want to contribute to this newsletter? Here are the submission guidelines.