If you're enjoying Smart Mouth, please consider signing up for a paid subscription. The money goes toward paying our contributors. Substack sets the minimum at $5/month, so you can't give less than that,* but please feel absolutely free to give more.
*If you would like to give less than $5, you can do that via Patreon, and it is very helpful and appreciated! You will also get podcast episodes one week early! This week's episode with Texas Monthly taco editor José Ralat is all about … guess!
Thank you for your support.
Are we connected elsewhere? Say hi on: Instagram | Twitter | Facebook
Please forward Smart Mouth to someone who likes reading about foodways and culture!
---
Photo: Noi Cafe
Vietnam's Beloved Coffee
In any given town in Vietnam, the smell of dark roast drifts out onto the street before the roosters even start to crow. As the sun reaches its highest point, the local shops are packed with men drinking a cà phê sữa đá (dark roast coffee with condensed milk) and playing dominos. After dinner, the sidewalks are lined with teenagers holding a coffee in one hand and a cigarette in the other.
In Vietnam, coffee is king. The country's caffeine obsession is intensely ingrained in everyday life and social culture. In fact, you'd be hard-pressed to ride down any street in any city without passing a sign or two for cà phê.
After being introduced to the addictive brew by French missionaries in 1897, its popularity grew like a Robusta coffee plant from the soil of Đắk Lắk Province. Today, the Southeast Asian country is the world's second-largest coffee producer after Brazil.
Since its introduction, the Vietnamese have developed a variety of coffees and styles of drinking them. In the south, where the climate is hotter, it tends to be served "Sài Gòn-style" in a tall glass with a lot of ice and a phin (slow-drip coffee filter) placed on top.
In the north, varities like egg coffee, a strong black coffee with whipped eggs and sugar on top have become a popular treat. Other flavors like yogurt coffee, made with creamy yogurt, and coconut coffee, made with coconut milk, are mainstays. Combinations like avocado coffee are becoming trendy.
If egg coffee is on your list, Giang Café in Hà Nội, the place where it was created in 1946, is the spot. For coconut coffee, try Loading T in Hà Nội or Nối Café in Đà Nẵng. If avocados are your jam, head to Đà Lạt, where most of the country's avocados and coffee are grown in harmony. -Katie Lockhart
Photo: Loading T
---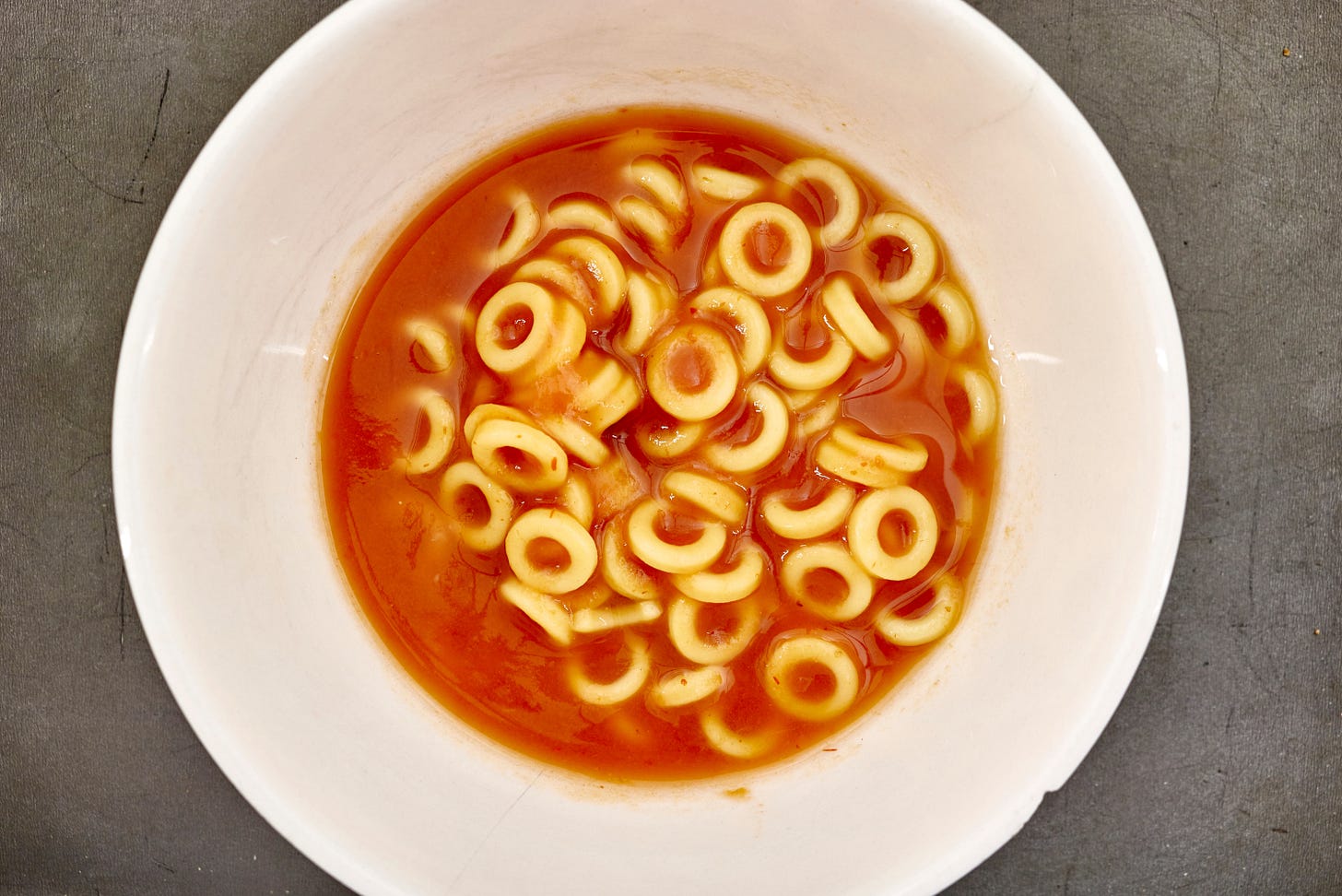 Um, Yes! SpaghettiOs
Plain, with franks or meatballs – I've been eating SpaghettiOs since I was just a couple of years old, which was about five years after they were invented in 1965. Back then, I liked them in a shallow bowl, so that the top cooled quickly, congealing like tomato soup. I preferred a teaspoon, not a soup spoon, to separate the rings more easily. A slice of the softest kind of white bread, spread so thickly with butter that your teeth left clear impressions, was the perfect sidekick.
These days, when times get tough, I still get myself a can of SpaghettiOs. And I'm not the only one. SpaghettiOs sell more than 150 million cans every year. The meatball version alone was the 17th most popular canned product of 2019, according to MSN.
Just as it does in the kitchen, though, it also holds a particular place in American pop culture, crossing class and race lines. The canned delight is particularly popular in music, taking center stage in the song "Oh Spaghettios" by indie-folk group Oliver Hazard and mentioned in passing in the songs "Usual Suspects" by Rick Ross and "Coming 2 America" by Ludacris. For artists like Pharrell Williams, in "MMG the World Is Ours," the noodle rings represent hard times. And for a variety of musical artists ranging from Ghostface Killah to 311 to Martina McBride, the cans are emblems of nostalgia and affirmation.
Writers also employ them to define character and setting, or as plot devices. In the 1987 film "Overboard," the SpaghettiOs Surprise casserole is a symbol of poverty and learned helplessness. As contrast, in the 1999 movie "10 Things I Hate About You," when Heath Ledger's character Patrick says, "You see, my grandpa, he was ill, so I spent most of the year on his couch watching Wheel of Fortune and making SpaghettiOs," he's really referring to suburban ennui or mundanities of the middle class.
SpaghettiOs also appear in the third act of the 2016 Oscar-winning film "Moonlight." The lines "better than your SpaghettiOs" and "my SpaghettiOs go hard" were improvised, however, which goes to show how deeply embedded they are in our subconscious.
The canned pasta even makes its way into the visual arts realm, with Pop Art Suzy making Warhol-esque prints with Franco-American, the pasta's original brand, emblazoned on the can. Jewelry designers Ozark Farm Girls create rings out of collectible SpaghettiOs silverware.
For the record, I'd probably wear a custom SpaghettiOs ring. For now, though, I'll stick to eating them – even if I have graduated to the organic version.🥫
---
More Food News
I had no idea how cool James Beard was, at least according to his biographer, John Birdsall, who argues that the James Beard Foundation has the opposite values of the man it's named after.

If I ever have a reason to go to Sacramento, first stop is getting banh mi at this Texas barbecue restaurant.

Groceteria.com is a database of grocery stores in the U.S., past and present, with an emphasis on cultural history. It's maintained by a librarian in North Carolina and it is now my favorite bit of internet.

---
This newsletter is edited by Katherine Spiers, host of the podcast Smart Mouth.
A TableCakes Production.
Want to contribute? Here are the submission guidelines.