Are we connected elsewhere? Say hi on: Instagram | Twitter | Facebook
I've been obsessed with Spam (or SPAM) for some time now, and luckily got to do an episode about it last week. It has such an interesting history, and if you know anything about midcentury American food, you won't be surprised that the military is involved. You can listen to the episode here and on any podcast player. And please tell me: do you like SPAM? How do you like it prepared? Let's discuss it here. - Katherine Spiers, editor and host
Screenshot: YouTube/Gourmet Makes
Claire Saffitz Is the Best YouTube Host You Might Be Missing
By Angela Wyatt
On the 35th floor of One World Trade Center sits the Bon Appétit Test Kitchen, a sprawling, stainless steel kitchen oasis, the backdrop of some of the internet's most compelling food content. The most popular series on the Bon Appétit YouTube Channel, Gourmet Makes, sees host and pastry chef Claire Saffitz create "gourmet" versions of the snack foods we all know and love. Gourmet, in this instance, means fewer chemicals and preservatives, real fruit, less sugar, and a lot more anguish.
But the show, while centered around the junk food that maybe you used to eat after school, feels less about the journey to create a homemade Reese's Peanut Butter Cup and more about the host herself. Claire is the new crush you didn't know you were going to have, whose charm makes her simultaneously feel like an untouchable Hollywood star and your best friend from childhood. You are rooting for her to nail the final product, whether it's a Hot Pocket or a Warhead, but you're going to be proud of her no matter what. She's putting so much effort and skill as a professional chef into each seemingly silly venture: it took days to produce a minimal amount of M&Ms, each one finished off with a painted-on M.
These aren't your average cooking videos – you're not watching to find a recipe you can recreate for dinner tonight. You're watching Claire's journey, the emotional rollercoaster that she is taking us on. My favorite moment is when, feeling particularly frustrated over tempered chocolate and Kit Kats, she declares to her fellow Test Kitchen chefs, "I want you to know that I can accept zero criticism right now."
Those fellow chefs round out the world of the Bon Appétit Test Kitchen, a sort of Marvel Cinematic Universe of the online food video realm. The chefs have their own series, from Brad Leone's It's Alive to Chris Morocco's Reverse Engineering (both are wonderful, highly recommend), but they all make appearances in each other's videos, taste-testing, offering support, maybe just hanging out in the background, or in the case of Brad and Claire, irritating each other in delightful ways.
The highs are high on Gourmet Makes, and the lows are lows. And you feel it all. In the quiet moments when Claire gets to happily sit at her station and do some arts and crafts, painstakingly creating her own Starburst wrappers, you are happy for her, knowing she deserves a relaxing task after days of failed candy attempts.
On paper, doesn't really make sense that this show, and the entire Bon Appétit YouTube channel, are the driving forces behind numerous meme accounts, fan art, and video compilations - and with such a huge audience (the channel has over 5 million subscribers). But in 2020, when the entire world seems to be burning around us, it's nice to spend some time with our friends in the BA Test Kitchen, listening to Brad pronounce water in that weird way he does, and cheering Claire on in her quest to make homemade sprinkles to crush up to sprinkle on a strawberry Pop-Tart. 🍬
Photo: arepa.bar
10 Venezuelan Foods to Try in Miami
By Jen Karetnick
Cuba often dominates the culinary conversation in Miami, but the truth is that the Magic City is practically the Latinx capital of the United States, and the range of Latin American cuisines that are available reflects this. One such category, Venezuelan street food – handheld snacks made from ground corn, smashed plantains, white cheese, and a variety of fillings that make entire meals – is growing apace with a rapidly developing and thriving community of expats who have fled their country's governmental chaos. (Fire, frying pan, etc.) Here are some classic Venezuelan street foods and the places where you can sample them in Miami.
Arepas: If you have visions of those sweet corn pancakes you find at fairs and festivals dancing in your head, banish them immediately. Venezuelan arepas look like pita breads – except that they're made from corn, so they're terrific for folks who are gluten intolerant – stuffed with everything from fried eggs and cheese to grilled meats and beans. One of the most famous fillings, reina pepiada, is chicken salad with avocado. Try them all at Arepa.bar.
Cachapas: Those sweet corn pancakes, cooked on a griddle and filled with sturdy queso blanco, that you find at carnivals? They're actually cachapas. Learn how good they are when cooked to crisp perfection at K'Chapas. Try them with cheese only or paired with beef, chicken, or ham.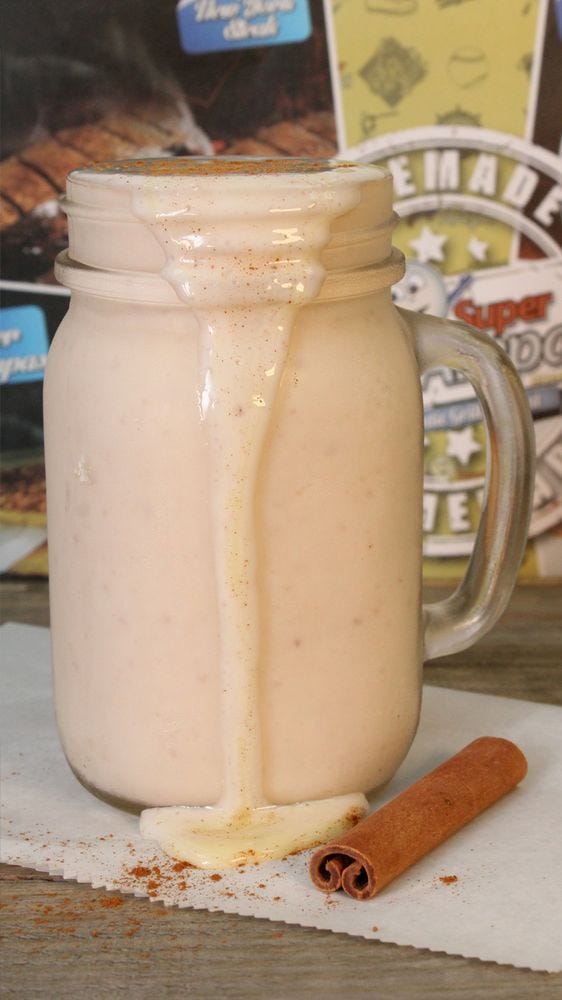 Photo: Eparepa Doral
Chicha: A cold, thick drink made with soaked rice (or a commercial mix), the chicha tastes like dessert in a glass. While it's Venezula's most popular beverage, it's a little hard to find in Miami. Don't waste time: go directly to Eparepa Doral for an authentic chichi that tastes like cream, vanilla, and cinnamon.
Empanadas: Empanadas – convenient, handheld turnovers – vary from one Latin American country to another in terms of material and methodology. In Venezuela, they're constructed from corn meal and deep fried. Discover the range of empanadas, and how Venezuela's compares to those of other countries, at Empanada Harry's, which features some different creative concoctions every month.
Hamburger: What makes a hamburger Venezuelan? It comes down to the toppings. Allow perennial favorite food truck Zona Grill, which makes its burger "Caracas style," to define it for you with ham, cheese, bacon, a fried egg, tiny potato sticks (the packaged kind you find in the snack food aisle), ketchup, mustard, and special Zona Grill sauce.
Hot Dog: Much like the hamburger, the Venezuelan-style hot dog is distinguished by its toppings: shredded cabbage or coleslaw, onions, potato sticks, Parmesan or Gouda cheese, mustard, ketchup, and whatever house sauce the vendor deems appropriate. Almost all Venezuelan restaurants have one. For vegetarians who want to experience it, Edukos Beer House does a trimmed-down, plant-based version with onions, potato sticks, mustard, and what they call pink sauce, which tastes like a lighter version of Thousand Island dressing, just without the relish.
Mandocas: Venezuela has similar desserts to other Latin American countries – tres leches, flan, churros. But the donut-shaped mandoca is a pastry distinctly its own. It comes from Zulia in the northwestern part of the country, and is nicknamed the "Zulian pretzel." Comprising both corn meal and sweet plantain, and often served with cheese in the morning for breakfast, mandocas in Venezuelan-American restaurants have become more of an all-day and evening sweet, served with cream, caramel, or Nutella. Taste for yourself at Budare Bistro.
Patacón: Picture a sandwich heaped with grilled shredded beef or chicken, covered with lots of fresh cheese, and drizzled with sauces. Now replace the bread with pounded, deep-fried plantains (tostones). You've got yourself a patacón. Wherever you go, they tend to be huge, and everyone makes them a little bit differently; some add lettuce, or avocado, or sautéed onions and peppers. But the protein is always the star, so grab a great example at Rancho Palmira Fire Wood Grill.
Pepitos: Don't get pepitos confused with pepitas (pumpkin seeds). The pepito is an all-kinds-of-awesome baguette filled with beef or chicken – or both (ask for the mixto) – that has roots in Spain. The Venezuelan version, which originated in the northwestern city of Barquisimeto, includes toppings such as onion, corn, bacon, avocado, cheese, potato sticks, and other condiments. Every chef has their own version, especially when it comes to sauces, a lot of which are aiolis flavored with garlic, cilantro, or avocado. But Don Glotón Miami, with three locations, especially shines with eleven condiments from which to choose.
Photo: Flickr/Brenda Benoît Dudley
Tequeños: Even though they contain mild white cheese and they're deep-fried, these cheese sticks tell an entirely different story than fried mozzarella. Invented in the resort town of Los Teques, they're wrapped in pastry and fried until golden brown, then served with aioli and guasaca, which is like a thin version of guacamole. At Doggi's Arepa Bar, it's impossible to stop with just one order. 🇻🇪
---
Read these:
Oof, this essay by Jenny Klion did a number on me, as I suspect it will for anyone who has a difficult family relationship and also a vague remembrance of an inherited recipe. (That sounds so specific, but I bet it's not.)

Whoever figures out how to get this jammy sauce into the U.S. is going to make a killing. Fun article by Hannah Selinger.
This newsletter is edited by Katherine Spiers, host of the podcast Smart Mouth.
Please forward to a food-loving friend!
A TableCakes Production.